HISTORY OF THE HITMAN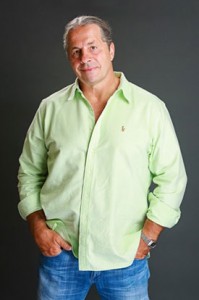 Bret "Hitman" Hart hails from the first family of pro wrestling and was trained in Calgary's infamous Hart family dungeon by his promoter father, Stu Hart, who was awarded the Order of Canada for a lifetime of contributions to charity and community. It was in this humanitarian spirit that Bret traveled the globe for two decades as World Champion of both major wrestling organizations brightening the lives of sick and dying children, who he met one on one while taking seriously his position to live up to being a role model to millions more watching on TV.
Bret earned numerous amateur wrestling awards before turning to olympic style wrestling's more theatrical counterpart and he is widely considered by his peers to be the most technically proficient pro wrestler of his era. But when Bret confidently asserts his slogan proclaiming that he's the best there is, was or ever will be it's not because he's the toughest or the strongest … but because in all those thousands of hard hitting action packed bouts – what Bret is really so prideful about is that he never actually hurt even one opponent!
It's the ultimate irony then that Bret Hart's wrestling career was abruptly ended by an errant kick to the head during a pay per view match that caused a severe concussion – followed by a major stroke! The Hitman battled back from this one-two punch and is looking forward to exploring new adventures – like Aladdin The Magical Family Musical , his first foray into live theater, outside the squared circle that is! Bret's prior acting experience includes a recurring role on Lonesome Dove The Outlaw Years for which he received a Gemini nomination, as well as numerous sitcoms and adventure series.
In the fall of 2004 Bret was voted one of the top 50 Canadians of all time on CBC's Greatest Canadian. Bret says he doesn't yet know how he's going to live up to such an honor, but that it'll be great fun to try!
Bret devoted 7 years to writing his critically acclaimed autobiography; HITMAN: MY REAL LIFE IN THE CARTOON WORLD OF WRESTLING and is now a #1 bestselling author in the US, UK and Canada.
Bret is already researching his next book idea; a romantic novel that has nothing to do with wrestling.
Bret Hart continues to consistently draw massive crowds all over the world whenever he appears at book signings, autograph sessions and as a riveting, humorous and inspirational motivational speaker. He also enjoys lending himself to charity events, when possible.